| | |
| --- | --- |
| Silliness That Serves" , PWR & UUA News, and more! | |
Pacific Western Region
Newsletter • May 2022
by Amanda Radak

PWR Events Coordinator

In Colorado, a group of Coming of Age youth were gathered in the kitchen to assemble their pizza dinner. They had a functional place and purpose. Someone added some music, someone started to sing, someone else started to dance, and the song ended. Then the challenge came: which song could get the most people dancing and singing? They spent an hour finding, playing and "rocking out" to all their favorite music and laughing together. Notice the spontaneity, the movement, the shared experience and joy.

In Washington, an annual egg hunt left the sixth graders wondering where they fit in and debating whether it was better to be a youth and hide the eggs or to stay a child and hunt for eggs. Some of them worked hard to hide the eggs for the fifth graders. Others would rather stay a child one more year. A pair of 12th graders wondered about a harder hunt. In a separate space with care for the landscape, but no attempt to be subtle, the seniors hid eggs. The sixth graders worked diligently to find them all for about 30 minutes, and then the seniors still needed to go back and check all the places they had hidden their set of eggs. The sixth graders were thrilled to have to work for it and the seniors were proud to find the eggs hidden well enough to avoid detection. Notice the laughter, the sense of accomplishment, the shared experience, the sharing of needs and labors.

Nothing about this was planned. It was not externally guided. It wasn't described in the stated purpose. And yet it is the source of the best fun, and an amazing salve for anxiety, burnout, and overwhelm. That which we co-create in between our programs and structures generates our connection, reinforces our support systems, and literally calms our nerves. We need this time, and it's important. (If you need more on this try: The Power of Fun: How to Feel Alive Again by Catherine Price and My Grandmother's Hands: Racialized Trauma and the Pathway to Mending our Hearts and Bodies by Resmaa Menakem.)

How can we grant our congregants that space and time? Do we need permission for impromptu anything? If you are feeling pulled to get to work, you might appreciate UUA Central East Region staff member Shannon Harper's take on the importance of a fallow field: A Garden Story & A Garden Story Part 2: A Liminal Action Plan. What will we and our UUs of all ages create given space, time, existing resources, and our own skills? Can we generate silliness that serves?

In these two instances, the leadership granted the space and time to these groups. Then with their own needs and skills and available resources, the groups created very different, powerful outcomes. It was the same plastic egg or pizza parts, yet these groups of people in these gatherings created joy, connection, and shared experience we never could have planned. They created fun. Can you?
Register Now for General Assembly 2022!
In 2022, we will have the option of meeting online or in-person! For those who enjoyed the convenience and accessibility of remote participation, General Assembly will continue to offer virtual attendance with robust programming and enhanced delegate discussion tools. For those who have been missing the physical experience, GA 2022 will also feature face-to-face interactions, hanging banners, a browsable exhibit hall, meals with friends old and new, local site attractions, and more! Join us June 22 – 26, 2022 online or in-person in Portland, Oregon. Click here for more information!
Registration is now open for in-person attendance. Full-time registration is $575 for adults, and $325 for high school youth, emerging adults, and retired and candidate ministers. Financial support for registration, lodging credit within the GA housing block, as well as a payment plan are available. Registration for virtual participation is now open!
Save the Date: Owl Facilitator Trainings
Our Whole Lives facilitator trainings begin again in person:
May 27-29 in Eugene, OR
August 19-21 in Berkeley, CA
September 3-5 in Bellevue, WA
Levels and Registration Links
UUA Presidential Search Begins
The Unitarian Universalist Association's (UUA) Presidential Search Committee has started their work for the 2023 UUA Election. On the 
Presidential Search page
, you'll find the official job description for UUA President, the portion of the UUA Bylaws that describe the nomination process, the application deadline, how to apply, and who to contact for more information. You can learn more from the 
UU World Article
 on the process. Applications open through July 15, 2022.
UUA Board of Trustees Updates
General Assembly Webinars
At this year's multiplatform General Assembly (GA), we will explore the power, possibility, purpose, struggle, and joy of meeting the moment as Unitarian Universalists. Whether you're a first-time delegate or a long-time attendee, we invite you to join us to learn more about what will happen at GA this year. Members of the Board of Trustees (with some occasional special guests) will provide an overview, along with information for delegates regarding the business sessions. More information and registration here.
Open Houses
The Board will, once again, hold open houses on the 2nd Tuesday of each month.
Tuesday, May 10, 2022; 4pm PT/ 5pm MT / 6pm CT/ 7pm ET. Pre-register.
Tuesday, June 14, 2022; 4pm PT/ 5pm MT / 6pm CT/ 7pm ET. Pre-register.
Board Meetings
The Board meets monthly. Here are the dates for each meeting. Please note that a registration link for the meetings will be available on this page in advance of each meeting.
Monday, May 9, 2022
Monday, June 13, 2022
Peer Pastoral Care for Youth Offering Online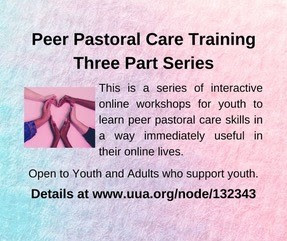 This is a 3 part series of interactive online workshops for youth and adults who support youth to learn peer pastoral care skills in a way immediately useful in their online lives. Pastoral care is an essential part of religious community and an essential part of caring for each other as human beings. We each can be present to each other as we go through both the hard and joyful parts of life. Compassion, witness, listening, and empathy are gifts we can all give each other.
The three workshops are:
Part 1 – Intro to Peer Pastoral Care and Listening Skills, May 7, 2022, 4-7 pm ET – this training is required to take parts 2 or 3.
Part 2 – Supporting Youth in Crisis, May 14, 2022, 4-7 pm ET.
Part 3 – Pastoral Care After Microaggressions, May 21, 2022, 4-7 pm ET.
Cost is $15 per session or $30 for the full series. Registration is open. Details here.
Emergent Strategizing for Liminal Times
May 25th, 7:30-9 pm ET/4:30-6 pm PT, online
Join other congregational leaders for this real-time introduction to emergent strategizing in liminal times. A follow-up online workshop will be available through the UU Leadership Institute for congregations wishing to facilitate their own emergent strategizing sessions. These offerings are inspired by the facilitation work of adrienne maree brown and UUA Congregational Life. Presented by Shannon Harper.
Cost for this workshop is $25. It is recommended that only one person from a congregation attend since registration is limited. Everyone who registers will receive all the materials needed to help with your own congregation's emergent strategizing. Register here.
How are you REALLY doing?
The UUA and UU professional organizations want to know. All community ministers and paid staff of UU congregations are invited to complete a questionnaire that does a deep dive into stressors and satisfiers of congregational life. At the end of the survey a personalized report gives insight as to how you're doing and why.
In fall, when the summary report is made available, gatherings by job role will unpack and debrief the implications of the findings. Those who have taken the survey will be invited.
Additionally, you will be given the option of including your anonymized data in academic research carried out by a PhD candidate at Emmanuel College, Victoria University, University of Toronto who helped develop this questionnaire and has been using it for both research and leadership support since 2015. Whether your data is included in this research is entirely up to you and will not affect the UUA reports.
For more information, click here.
Taproot: A National BIPOC Space
The work of spiritual community is complicated in the 21st century. The need for faithful leadership that is grounded and resilient is imperative. This is all the more true for leaders within our communities and congregations who are Black, Indigenous, and People of Color (BIPoC). All too aware of this need, UUA Congregational Life staff is excited to explore and co-create a network with congregational leaders that support them in this time in emergent ways through Taproot: A National BIPOC Space. BIPoC Leaders rooted in the Unitarian Universalist congregations are invited to take part in this monthly, virtual gathering.
Second Thursday of the month. ***PLEASE NOTE NEW TIME*** Next meeting May 12th at 8p ET/7p CT/6p MT/5p PT. 
Register here
.