| | |
| --- | --- |
| "Re-enter, Rejoice, and Stay Masked", PWR & UUA News, and more! | |
Pacific Western Region
Newsletter • June 2021
Re-enter, Rejoice, and Stay Masked

by Rev. Sarah Gibb Millspaugh
PWR Program Staff

Wow, the CDC sure surprised us all a couple of weeks ago saying that vaccinated people would not need to wear masks in most indoor places! Lots of UUs are wondering about what this means for our congregations as many of us begin holding some in-person group meetings and small events, and as many of us look toward starting in-person worship in the next four to five months.

Here's the scoop: For the time being, we need to maintain a culture of mask-wearing at our congregations, even for the vaccinated. Why? Because:

We are all-ages communities, and not all ages have been able to get vaccinated yet.

 

We are all-abilities communities, and some of us have immune systems that don't have the ability to tolerate a COVID vaccination or infection.

 

We are all-inclusive communities, and we want to express our UU values by being able to include all, regardless of vaccination status.


I've been working on the UUA's COVID response team since the pandemic began. Last March I was amazed at how quickly and effectively whole congregations pivoted from in-person worship to online-only worship within weeks. But the way we come out of this pandemic is not going to be fast or uniform. It's going to require more complicated planning and decision-making, custom-tailored to each congregation's building, local environment, programs, and size. So every congregation needs to find its own way, within the context of our shared values. With that in mind, I offer you these resources from the UUA:



And finally, I just want to say a few words about how we all are doing right now. It's been a tough 15 months. Many of us are quite tired and grumpy, "crispy" even. We have just passed the one-year mark since George Floyd was murdered. Many congregations are reckoning with the fullness of their commitment to diversity, equity, justice and inclusion. We are needing to think in complex and expansive and creative ways, and our brains crave simple solutions. We've been through some trauma, as Rev. Sunshine Jeremiah Wolfe so wisely tells us in this video. Let us be gentle with ourselves and others. We've never been here before and there is no roadmap. But as Unitarian Universalists in congregations all across the West, we know we are never alone.
Save the Date: Regional Assembly 2022
Save the Date for Face to Face: Regional Assembly February 4-6, 2022
San Diego or Online
Plenty of open air southern California weather for us to enjoy next winter.
If you can, plan to join us in person at the Hyatt Regency Mission Bay; you can book your room today. If you can't make it in-person, consider helping someone else from your congregation attend. Watch the newsletter for the latest as the weekend develops.
If you are interested in helping set the theme for our weekend, please reach out to Amanda Radak (
aradak@uua.org)
 to contribute to 1-2 meetings in June setting our course for this event. Further space for contribution will be announced as planning progresses.
Pop Up 4th Webinar for Smaller Congregations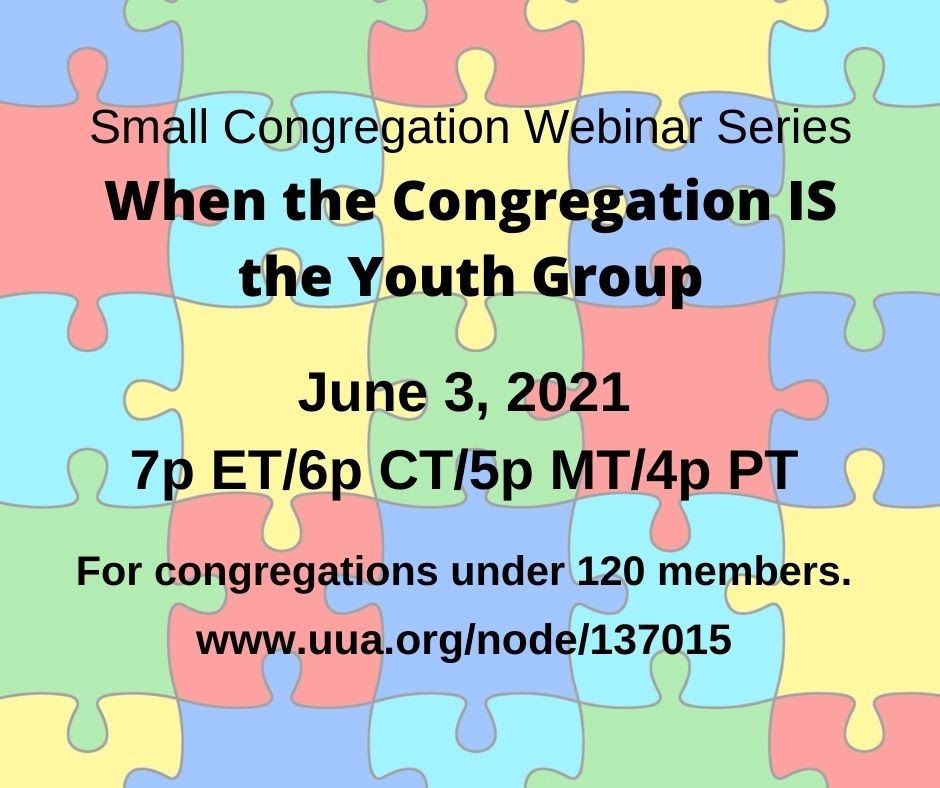 When the Congregation IS the Youth Group: How to bring the culture of youth and emerging adult ministry to multigenerational communities. Join Shannon Harper and Jennica Davis-Hockett, UUA Youth and Emerging Adult Ministry Specialists, as we explore relationship-centered community building for all ages in small congregations. A great second part to the Sharing Youth in Smaller Congregations webinar from April! Details and registration here.
Hope for Us: Conflict Engagement Team
As of May 1, 2021, Hope for Us: Conflict Engagement Team has been working together to develop teams and processes to help Congregational Life Staff serve congregations in conflict. This process of formation will, of course, take time. We are off to a great start.
Hope for Us: Conflict Engagement Team is the culmination of many things:
the vision of the late Rev. Dr. Hope Johnson
years of training in different processes for conflict management and restorative practices
developing and practicing a variety of district and regional models for conflict engagement
the iterative process of comparing and improving those practices
this time of change and opportunity
the maturational growth of Unitarian Universalism
Many of us close to congregations have seen the need for a process that could help congregational leaders regain and recommit to covenant with the goal of community vitality. The Widening the Circle of Concern report includes a call for the development of a conflict team (p 119-120).
Read the full article to learn more about this exciting team.
UUA Board of Trustees Open House
Tuesday, June 8, 2021; 4pm Pacific / 5pm Mountain / 6pm Central / 7pm Eastern
Co-Moderators Meg Riley and Charles Du Mond invite you to come and check in with the UUA Board of Trustees at its upcoming Zoom Open House. Bring your questions and chat about:
what the Board has planned leading up to General Assembly
General Assembly 2021
serving Unitarian Universalism as a volunteer at the national level
the progress of the Article II Study Commission
your congregation's engagement with Widening the Circle of Concern
the UU issues that matter to you
Please Take a Survey for UU World
The Spring 2021 issue of UU World magazine with the theme "(Re)Building Democracy" incorporated a variety of changes in editorial focus and design. The staff of the magazine want to hear your feedback so they can keep improving the magazine. Please complete a quick 20-question survey and let them know your thoughts (your answers will be anonymous).
News from the UUA International Office
Support COVID-19 Response in India
The UU Holdeen India Program's partners have been working around the clock during the COVID-19 crisis. A second surge of infections since April 2021 has led to severe shortages in oxygen, medical supplies, and hospital beds. The raging virus has not spared any part of the country – small towns, villages, and big cities have all been hit hard. The road to recovery will be long and challenging. HIP's partners across the country are working closely with the authorities to ensure relief reaches all those in need. If your congregation is planning to take up a special collection to support crisis relief in India, please consider the Holdeen Fund as a beneficiary. 
Donations to UUHIP can be made online
 or by texting HOLDEEN to 51555. Contact 
holdeen@uua.org
 if you'd like more information or a short video to introduce the special collection.
UU Congregations All In for Climate and Food Justice
The UUA Office at the UN invites congregations to dedicate one worship service each year to addressing the work of the United Nations, our UU connections to global justice work, and the yearly theme. The 2021-2022 UN Sunday theme is "All In for Climate Justice: Food Equity and Sustainability." Save the date now for United Nations Sunday at your congregation: The recommended date is United Nations Day which falls on Sunday, October 24, 2021. UN Sunday can be held any time. Reach out to the UU@UN (
unitednations@uua.org
) if you'd like to coordinate a virtual guest speaker. A collection of worship-planning resources is under development and will be available this summer, also including an action toolkit! UN Sunday resources will be online 
here
. Begin engaging with this topic: Join the Group called "All In for Climate Justice: Food Equity and Sustainability" in the 
Create Climate Justice network
 to begin connecting with others who are passionate about climate and food justice, and share about events and opportunities. Check out 
resources and more from the UU@UN
!
Workshop on Transitional Religious Leadership
The Guild of Interim Religious Educators now offers a training program focusing on congregational transitions for professional staff serving in religious leadership roles. This program provides you with the tools you and your team need while serving a congregation experiencing a transition. And when you want to imbue your work in the congregation with fresh perspectives, this program will provide you with the skills you need to re-imagine a bright future in your church!
This program is the first of TWO seminars, providing leaders with the skills and perspectives they need on a variety of topics.

Facilitators: The program is co-facilitated by Michele Grove, D.Min, Lily Rappaport, and Deborah Weiner.
Dates and Cost: 
Thursdays: July 29, August 5, 12, 19 – 1:00 PM EDT (each class runs for 2 hours). 
Deadline for registration: July 15
. Registration fee: $200; GIRE members receive a 20% discount ($160). 
Visit our website for more information and to register.
 Questions: 
uugire@gmail.com
Faithify: Help Fund Silent Retreat for Justice Leaders to Restore Their Spirits
This past year has been traumatic for so many people, in so many different ways. But it has been especially challenging for UU Justice Leaders – seminarians, clergy, and lay leaders in congregations and community. These leaders are called to be on the front lines of movements towards justice, challenging us to be agents for change, strategizing in the face of opposition, and comforting those affected by trauma.
This is an opportunity to offer a healing experience for those standing at the forefront of our UU justice efforts. We are asking for your contribution for scholarships for UU justice leaders so they can attend SpiritRest Silent Retreat. Your donation will provide a lifeline to those leading the hard work of dismantling racism, raising the alarm of the climate crisis, and leading UUs to live into our principles. Time for retreat isn't a luxury, it's a necessity in order to replenish their spirits. Learn more and donate here.
Virtual General Assembly 2021: Register Now!
Circle 'Round for Justice ● Healing ● Courage is the theme for General Assembly 2021. General Assembly is a time to circle 'round in community. We circle 'round in care and healing; for liberation and justice; and for love and courage. We share stories of the work happening at our Association and in our congregations. We study ways to implement and live into our mission. UUA GA 2021 will incorporate recommendations from the Commission on Institution Change report, "Widening the Circle of Concern" and dialogue with the Article II Commission about our Principles and Purposes.