| | |
| --- | --- |
| "Love Right Through", PWR & UUA News, and more! | |
Pacific Western Region
Newsletter • January 28, 2021
By Rev. Carlton E. Smith
Lead – UUA Pacific Western Region

Your Pacific Western Region staff and members of the PWR District Boards are striding down the final stretch of preparations for this winter's virtual 

Regional Assembly

, February 13-14.

This marks the first time during the pandemic and the first time at all in almost two years that we will convene. We gather under the theme "Love Right Through", which reminds us of what a powerful source love can be for guidance, strength, and transformation in difficult times.

The afternoon will begin with inspiring music from Reggie Harris, Co-President of the Living Legacy Project, which does tours and programs honoring the changemakers of the Civil Rights Era. Then we will have a series of short breakout opportunities where we'll get to connect with new friends and perhaps reconnect with folks we already know.

The President of our UUA, Rev. Susan Frederick-Gray, will offer words of greeting, as will the Presidents of the PWR's District Boards.

Member congregations and covenanting communities have stories to share with one another – stories of disappointment, of resilience, of loss, of courage, of trials, and of triumphs. One of the features of this Regional Assembly is its focus on voices from our congregations and covenanting communities. Prepare to be inspired by your fellow lay leaders who are tapping into their own resourcefulness and finding ways to do well in spite of the pandemic.

We will also highlight congregations taking on the recommendations of the UUA's Commission on Institutional Change as found in Widening the Circle of Concern. For those who are looking for ways to engage their congregations in the work of racial justice and countering white supremacy, this is a time for you to connect with others dedicate to this work.

We know there are many questions about what is happening with Sunday worship on February 14…and we have a response! If we were doing an in-person gathering we would have organized a special worship service unique to the Region. However, we acknowledged that the Side with Love campaign already had Sunday, February 14 as the end of its 30 Days of Love programming.

Because they already had a service planned and we choose to cooperate rather than compete, we determined that we would love right through by letting their service also be ours and that we would hold a Community Hour in the afternoon, which is open to PWR Regional Assembly attendees and anyone else who wishes to gather. The link to that will be in your registration email in the coming days.

The Side with Love service coordinated by Rev. Erika Hewitt will be available for download and/or viewing the week of February 7 and can be used in local services at their regularly scheduled time. We PWR staff hope that local congregations that could use a break from Sunday service prep will take this as an opportunity to give their ministers and Worship Committees a little downtime from the rigors of creating worship from scratch. Click here for more details.

We look forward to seeing you at Regional Assembly… Let us know if you have any questions!

In faith,
Carlton
Register Now for Regional Assembly 2021: Love Right Through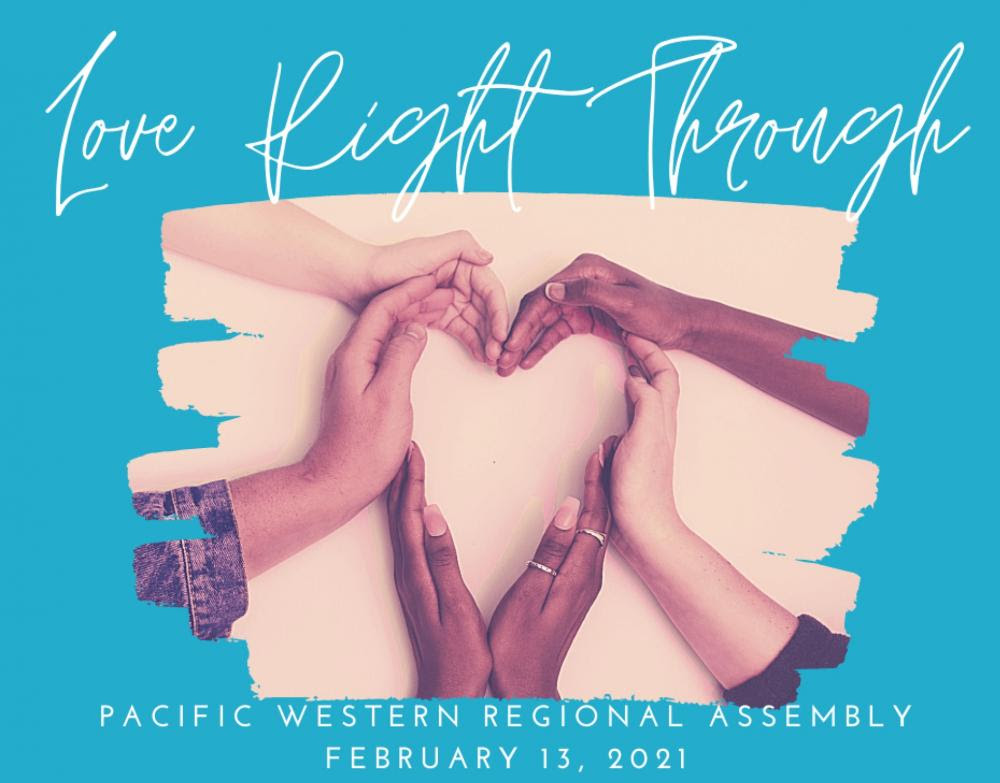 This has been a difficult year and we have done many things to Love Right Through all the challenges. Join us for an afternoon of celebrating our accomplishments and challenges with sharing from spotlighted congregations. Engage with small groups around shared identity and how that impacts church and life. Hear what is happening for good in the world and opportunities yet to come. Regional Assembly will run from 12 pm- 5 pm (Pacific) Saturday, February 13th, opening with a lively celebration, welcoming, and congregational spotlights before a break headed into identity-based discussion groups and back for collective sharing and more celebration. 
Register Now
!
We also hope you and your congregation will join us for worship with the UUA and Side With Love on Side With Love Sunday, February 14th. The full worship service will be available for download before the 14th, so you may watch it at any time. More information can be found on their website. PWR will host a virtual Community Hour on Sunday afternoon from 1 PM to 2 PM Pacific, which is open to all. Bring your coffee or tea. An access link will be published Feb 12 to Regional Assembly registrants and PWR ministers, admins, and presidents to share with their congregants.
The Pacific Western Region encompasses four districts, which are gathering at various points over Regional Assembly Weekend. Register once and stay informed. Mountain Desert District will host a Saturday morning business meeting (details here), and Pacific Northwest District will gather socially at that time. Pacific Southwest District and Pacific Central District will gather during Community Hour Sunday afternoon.
Got Financial Issues at Your Congregation? Welcome to … Generosity Labs!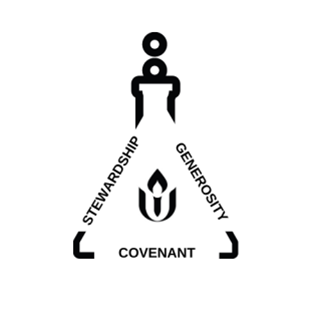 This 5-part series engages congregations in creative conversations about pressing needs around generosity and stewardship, connect with each other to share best practices, and develop plans for taking their generosity ministry to the next level.This interactive series will engage stewardship through a lens of anti-racist generosity as a tool for dismantling White supremacist culture and building a sustainable future together.
Each lab can be done independently and the full set dovetails one to the next.
February 3: Building a strong foundation: theological and practical grounding for stewardship and generosity
February 10: Budgeting in a time of uncertainty
February 17: Help! Our big fundraiser isn't happening! Fundraising in a global pandemic
February 24: Stewardship for Sustainability
March 3: Congregational life cycle and use of resources.
To learn more about each section, click here. To register, click here.
Small Congregation Webinar Series on Sharing
Stewardship Webinar Options For Congregations
In an experiment, the UUA Congregational Life Team and Stewardship for Us are jointly offering two national webinars this February to help you with your Annual Pledge Drive. These sessions aim to provide strategies and ideas for pledge drives during our challenging times. Participants can register for either session, or both.
Registration closes February 5 for both webinars.
Greeley Sermon Competition on Climate Justice
The UUA Office at the United Nations invites you to submit a sermon to the 2020-2021 Dana McLean Greeley Sermon Competition. This year's competition theme is "All In for Climate Justice: People, Power, Planet." Beyond an analysis of the dangers of the climate crisis, sermons should address what it means for people of faith to be all in for climate justice, looking toward the ways power can be leveraged to help people and planet achieve justice and liberation. Submissions that draw on the work of the UN and our UUA Office at the UN will receive priority consideration. The selected winner will receive a $500 honorarium prize and a video of their sermon will be featured on the UU@UN website. Please send submissions to unitednations@uua.org by February 23, 2021 and learn more about submission requirements here.
New Day Rising Conference National
Is your congregation ready to take a new step in racial justice work? Want to learn what your fellow congregations are working on, and how you might apply it at home? Join a continent of UUs as we explore next steps in creating Beloved UU Communities.
On Your Own: Watch compelling video TED-talk style testimonials from selected congregations around the continent sharing their learnings, hopes and next steps in their quest for racial equity in their congregations
Together: Worship·Workshops·Caucusing. With plenty of breaks on Saturday, February 27th, 9 AM-6 PM PT
Registration is open! Fees are on a sliding scale of $20-$50 per person, congregations sending a team should pay $20 each. Learn more and register. Brought to you by the Unitarian Universalist Association.
Virtual General Assembly 2021: Register Now!
Circle 'Round for Justice ● Healing ● Courage
 is the theme for General Assembly 2021. General Assembly is a time to circle 'round in community. We circle 'round in care and healing; for liberation and justice; and for love and courage. We share stories of the work happening at our Association and in our congregations. We study ways to implement and live into our mission. UUA GA 2021 will incorporate recommendations from the Commission on Institution Change report, "Widening the Circle of Concern" and dialogue with the Article II Commission about our Principles and Purposes.
If your congregation wants to send delegates to General Assembly, then you must be certified by February 17 (note this deadline has been extended). Not sure what certification means? The 
UUA Certification Page
 explains and links to resources to help your congregation complete this important step.
Job openings in PWR congregations are now included on the 
UUA Jobs Board
. Don't worry — even though the URL says "ministrysearch", you'll find all positions posted here. If your congregation has an opening you'd like listed, please complete the 
online submission form
 and we'll get it posted for you.
Pacific Western Region (PWR) Events
Youth Peer Pastoral Training (formerly Youth Chaplain Training). February 19-20, register through February 8th.
Winter 2021 Middle School Conference. Saturday, February 27, 2021, 11:00 am – 7:00 pm PST.